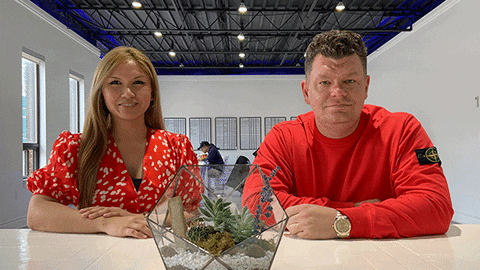 You've made it! Welcome to A Nerd's World. For over 12 years our team has brought a spark to brands around the world. We are extremely passionate about what we do and have always put our clients first. From the initial meet to the finish line, our team's uniquely personal attention will keep you in the loop as your creative experience unfolds. We are not your typical nerds, we have a lust for life and a passion for creation. We look forward to the opportunity to work with you and welcome you to our world.
Chris A. Hughes & Grace Hughes
Founders of A Nerd's World
With specialties ranging from web development and search engine optimization to brand building, logo design, photography and copywriting, our in-house team delivers innovative strategies and recognizable results. We're the Nerds who foster our inner child and aren't afraid to let our imaginations run wild.
We may not have met yet, but you've probably bumped into some of our work. Just below this paragraph you will find a hand selected taste test of our portfolio. Remember we've been in business since 2006 and have thousands of projects to show off but we don't want to overwhelm you on our homepage.
DID YOU KNOW THAT WE RANK #1 ON GOOGLE?
We provide in-house white hat Search Engine Optimization services that have stood the test of time – since 2006 to be exact. Our custom SEO strategies are extremely powerful and proven to rank your website at the top of Google. Serious business owners hire us and our trusted team of in-house nerds for real results. It's that simple.
3 STEPS TO A HIGHER RANK ON GOOGLE
We live and breathe Search Engine Optimization. No really, we do.We ditched the smoke and mirrors, secret Search Engine Optimization recipes to success and decided very early on to be the best at what we do. We used our talents, to create our values, our structure, process and custom digital marketing strategies. Creating an in-house culture, that lets these behaviours and actions live and grow. It sounds simple, but it really works. We're living proof!
SCHEDULE A CALL
When you're not seeing the Google rankings and the success you want in your business, it's time to talk to an SEO guru.
CUSTOM STRATEGY
During the call, talk about your goals. Before you hang up, you'll have the outline to a strategy that will lead you to top rankings.
HIGHER RANKINGS!
Start generating more traffic and more interest in your business. It's 2020 and time to get a positive return on your investment.
I've worked with A Nerd's World for 6 years now on many different projects. They've been a dream. My Search Engine Optimization guy is Ming and my website lead is Ruth, and we've had a great time with them. They have been excellent communicators and everything gets done in a timely manner.  I'm a local entrepreneur and I love supporting other local businesses and entrepreneurs. I needed a website and I knew I had to rank it organically, so when I found that they were on the top of Google for both of those, I really knew that I found the right team.
Dave Owens

Founder of Dozy Sleep